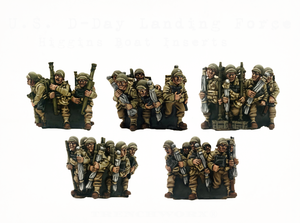 The U.S. D-Day Landing Force 5 Troop Inserts (for Higgins Boat) is from our line of D-Day miniatures. The Troop Inserts are cast in resin and 3D printed parts and are 1/56 (28mm) scale. 
This set consists of:
Our products are manufactured in our facility in Sandy, Utah. We maintain some level of stock of each kit, but some are Build to Order and will ship within 3 business days of order receipt.