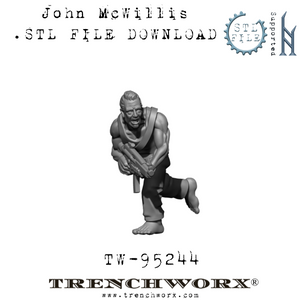 John McWillis is an .STL Download. 
Contents:
Contents:

1 John McWillis and glass covered base
1 25mm Trenchworx Base

Modeled as 1/56 (28mm) scale
This STL files are provided as both un-supported models and supported models confirmed on a Phrozen 8K Mini.
Digital products do not count toward FREE Shipping or FREE Miniature of the Month promotions.
User Agreement may be found HERE.