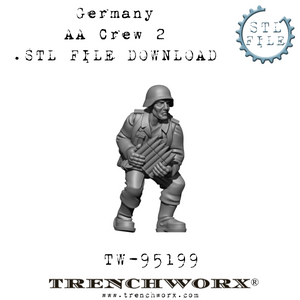 This German Loader from our Anti-Aircraft Gun sets and is an .STL Download.  
Contents:
GermanAnti-Aircraft Gun Loader
Trenchworx 25mm Base
Modeled as 1/56 (28mm) scale
The .STL Files ARE NOT pre-supported!  The user is required to support and troubleshoot the files for their 3D printing system.
Digital products do not count toward FREE Shipping or FREE Miniature of the Month promotions.
User Agreement may be found HERE.