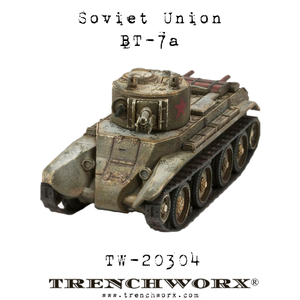 The Soviet BT-7 was produced between 1935 and 1940. Several thousand were built during the opening stages of World War II and among those 154, BT-7A artillery tanks were produced. The BT-7A was given a larger turret than the standard design to house its 76mm KT gun.
This is a 28mm (1/56) scale resin cast kit.  This model kit is supplied unassembled and unpainted.  Magnets are included for mounting the turret.
Our resin cast products are manufactured in our facility in Sandy, Utah. We maintain some level of stock of each kit, but many are Build to Order and will ship within 3 business days of order receipt.