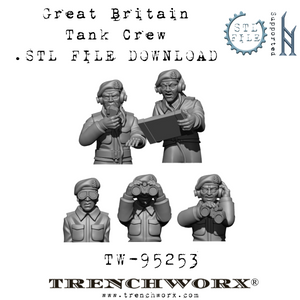 These British Tank Commanders are an .STL Download.  Five unique commander poses are included. 
Modeled as 1/56 (28mm) scale
These models may be used in our Trenchworx brand tanks

These may be incorporated into other manufacturers tank kits, but need slight modifications and filing of final print to achieve a best results.
The .STL Files ARE NOT pre-supported!  The user is required to support and troubleshoot the files for their 3D printing system.
Digital products do not count toward FREE Shipping or FREE Miniature of the Month promotions.
User Agreement may be found HERE.
The physical version of this product are not yet available, but will be soon.