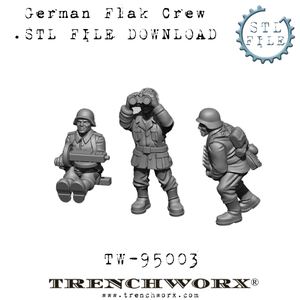 This German Flak Crew is an .STL Download.
Contents:
German Flak Crew Spotter

German Flak Crew Loader
German Flak Crew Gunner (May or may not fit 3rd party flak cannons)
Modeled as 1/56 (28mm) scale
The .STL Files ARE NOT pre-supported!  The user is required to support and troubleshoot the files for their 3D printing system.
Digital products do not count toward FREE Shipping or FREE Miniature of the Month promotions.
User Agreement may be found HERE.
Final Note - We are new to selling .STL downloads.  We've been at this for about 10 years and have a large catalog, but we always used these files internally for model making.  If you see something weird or aren't sure what you are looking at, drop us a note at service@trenchworx.com and we will help you out.  We can't wait to see what you do with these models.  Have Fun!