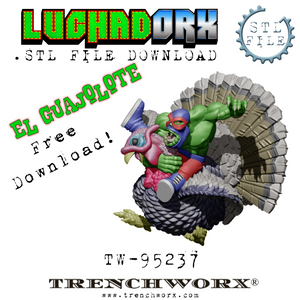 One of our famous LuchaDOrx has wrangled this bird and is gonna ride him straight to Plymouth Rock!
The El Guajolote model is an .STL Download from our LuchDOrx line of .STLs and is a FREE DOWNLOAD.
Contents:
El Guajalote Full Model .STL (for those inclined to print him in one go)

El Guajalote Components (Torso, Body, Left Foot, Right Foot, Base and Back Feathers)
Flight Stand
Modeled as 1/56 (28mm) scale
The .STL Files ARE NOT pre-supported!  The user is required to support and troubleshoot the files for their 3D printing system.
Digital products do not count toward FREE Shipping or FREE Miniature of the Month promotions.
User Agreement may be found HERE.
The physical version of this product is available HERE.
Model does not print assembled (unless you print the full model) or in color!
Final Note - We are new to selling .STL downloads.  We've been at this for about 10 years and have a large catalog, but we always used these files internally for model making.  If you see something weird or aren't sure what you are looking at, drop us a note at service@trenchworx.com and we will help you out.  We can't wait to see what you do with these models.  Have Fun!